JAYNE L.
May 2, 2016
Light, healthy and delicious
I love yogurt even in savoury foods and I found the plain organic probiotic consistency perfect for adding berries and granola to as well as in savoury foods like spaghette and basmati rice! The taste was light, but still had a tarteness to it that I love in greek yogurt and had a thickness to its consistency that tasted so satisfying!
JENNIFER E.
May 2, 2016
Smoothie Time!
We tried Olympic brand Krema for the first time this week. It is delicious! I bought the giant tub of low fat vanilla for smoothies and they tasted even better than normal. The thick creamy texture made the smoothies taste more like milkshakes. Delicious alternative to ice cream too if you just pop it in the freezer for a couple of hours. I also tried the Lemon and coconut flavors which are to die for. The lemon tasted like lemon meringue pie sans crust and all the extra calories and sugar! The coconut also divine I almost ate the entire container in one sitting. Perfect healthy snack and can be eaten so many ways. I'm thinking this will be our new smoothie go to and I can't live without the lemon and the coconut on a regular basis.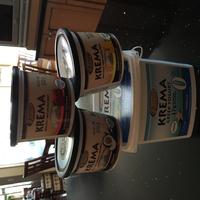 KELLY K.
May 2, 2016
Yummy addition to my morning smoothies!
I recently tried adding Olympic Vanilla Kefir to our breakfast smoothies, and WOW! So much healthy yumminess that my entire family enjoys! I can't wait to try it in other recipes!
HANNAH S.
May 2, 2016
Natural, Local, and Delicious Yogurt
I have been impressed with Olympic yogurts for a long time. I love that the company is Canadian and fairly local to me, but the fact that they use real, quality ingredients is the driving force behind my choosing to support their products as a customer. I like the Organic Olympic yogurt the best out of their products. I often buy the plain yogurts to add my own flavourings to, and this unflavoured yogurt is deliciously creamy, without an intense sourness that can accompany a natural yogurt. This is a plain yogurt I could even eat on it's own, without any fruit or other add-ons. There are only a few, simple and natural ingredients that I can understand, and fact that those ingredients are organic makes me feel like this yogurt is as healthy as a choice for my family as it is tasty.


STEVE H.
May 2, 2016
Delicious snack
I received coupons from Crowdsocial to try Olympic Krema yogurt and this is my honest opinion . I tried the regular Krema in plain and the Krema vanilla in the non fat variety . I was happy to find that there is a nonfat version , it sure doesn't skimp on flavour and it still feels like your indulging. I love the high protein content in these yogurts and creamy texture, I'm looking forward to trying some of the other flavours especially the honey. If you haven't tried the Greek yogurt craze just yet I suggest you start here. My kids enjoyed both flavours as well.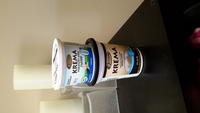 KELLY K.
May 2, 2016
Yummy addition to my morning smoothies!
I recently tried adding Olympic Vanilla Kefir to our breakfast smoothies, and WOW! So much healthy yumminess that my entire family enjoys! I can't wait to try it in other recipes!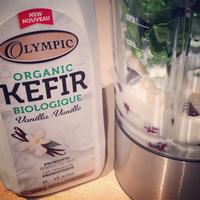 JAMIE H.
May 2, 2016
rich, creamy and delicious
I received Olympic Krema yogurt for review purposes. I tried the plain and the vanilla flavours and they were both amazing, The texture is rich and great for a snack or to make traditional eastern European dishes. I spent time in Greece and fell in love with Greek yogurt there , I havent found one here that compares until now . I would recommend it to anyone looking for high protein snack. I love that it also comes in a fat free version and many different flavours, the hardest choice will be which one to choose next .
KYLA C.
May 2, 2016
Organic Vanilla and Kefir Olympic Milk
So, I tried Kefir Vanilla for a few days. It was good I tried it on my cereal for 4 days. It was surprisingly tasty. Will I buy it again? Sure. It was cool to try something new.
ASHLEY T.
May 2, 2016
Teens loved it!
I was a bit nervous to have my teens try out the Kefir Vanilla as they are very picky and do not like anything new. But they loved it and enjoyed it as part of their morning routine. Great with smoothies for me but they preferred it on its own. Similar to yogurt just not as thick. Comes in a large bottle in a few flavours so you can change it up with cereal. The price was $9.99 and I received a coupon to try it out. I will buy it in the future but look for it on sale as it is a bit pricey for me.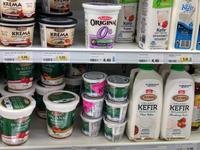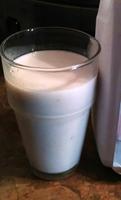 JOSIE F.
May 2, 2016
Creamy Deliciousness
I received a coupon to try Olympic Organic Kefir for free from CrowdSocial. After drinking it for a week I must say I feel great! I really enjoyed the taste and the creaminess of it. I love that in just one cup you are getting 8 grams of protein! That's amazing! It's not super high in sugar either which is great. It really filled me up. I have had tummy troubles for a while and felt pretty good after drinking the Kefir for a week. It's such a great way to start my mornings. Yesterday I added it to some strawberries and banana with some ice in a blender and made a smoothie. It was truly delicious. Highly recommend!
RITA H.
May 1, 2016
Discover the Deliciousness of Kefir
Although I had heard of kefir before, I had never tried it myself ~ and was honestly skeptical. The description of "fermented milk product" falsely led me down the path of assuming it would be dis-tasteful. I found it to be just the opposite. It smelled pleasant ~ similar to yogurt ~ and was absolutely delicious in a fresh fruit smoothie. I look forward to adding this healthy probiotic product to my regular diet.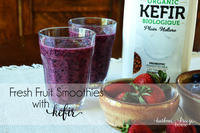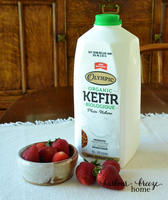 ALISON L.
May 1, 2016
Thick & Creamy!
I love Greek yogurt and Olympic's Krema is everything I want in a Greek yogurt. It's thick, rich & creamy... and perfect for eating plain or incorporating into some of my favourite dishes. For a healthy breakfast I often make "paleo pancakes" (literally 1 banana + 1 egg mashed together) and instead of topping them with whipped cream or syrup, I have been using Olympic Krema in Plain with some berries. Not only is it filling, but it also tastes delicious!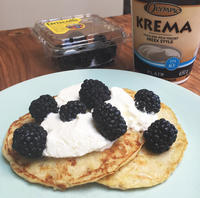 HEATHER V.
Apr 30, 2016
Great for Kids
My kids love Olympic Krema Yogurt - especially the vanilla flavour! It's their favourite snack to have in their lunch or after school. I love that it's made locally in BC, so it doesn't have to travel far before we buy it in the store. Win-Win!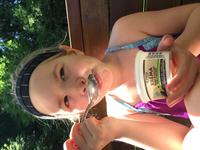 ANGELA Q.
Apr 28, 2016
Real Goodness with Olympic Organic
I was really pleasantly surprised by the tastes of Olympic Organic yogurt! I got the Peach flavor to try out. The yogurt itself has a firmer texture than normal and is not that sweet. The really yummy part though was the fruit. It tasted very natural and delicious. I also found out that it's made in Delta which is my home town! I love that all the ingredients are organic so I know I'm eating good stuff.